The best beaches of Isla Mujeres, paradises to fall in love with
Details
Planning a dream trip? Discover the best beaches on Isla Mujeres and enjoy crystal clear turquoise blue waters, fine white sand and gentle waves that sparkle at sunset. Take a memorable trip to a place with great Caribbean culture, deep-rooted traditions and more than 480 years of history. A place to enjoy nature 100%, while being pampered with first class services.
This island was consecrated to the goddess Ixchel, a Mayan deity representing the moon, fertility and love. It is located off the coast of Cancun and is easily reached by ferry from any of these points:
Jetty located at Playa Tortugas and Playa Caracol, in Cancun's hotel zone.
Gran Puerto Terminal in Puerto Juárez
Punta Sam Terminal (recommended if you want to bring your car)
The best beaches on isla mujeres
Isla Mujeres has three beautiful beaches recognised with the Blue Flag, which certifies compliance with international criteria for water quality, safety, services and environmental management, education and dissemination.
Playa Norte Beach
This site is one of the best beaches in Isla Mujeres, obtaining the first place in Mexico (according to Travellers' Choice 2023) and ranked among the 25 best in the world by Tripadvisor. It is a true paradise on earth, with calm waters that do not exceed the waist (up to approximately 200 metres) and soft, very white sand, as a result of its proximity to the coral reef. This quality makes snorkelling and scuba diving a very popular activity in the area and the colourful marine organisms delight every visitor.
Photos look spectacular in a natural setting like this one, and its gastronomic offer is one of the most varied and tasty, with seafood, refreshing cocktails and even Mexican snacks. Besides, due to its location, this place is not crowded with tourists and it is possible to relax quietly, appreciate magical sunrises and sunsets or simply walk, feeling the delicate sand sliding between your toes.
It is precisely in Playa Norte where you will find our hotel Privilege Aluxes, with swimming pools, spa, garden, beach club and direct access to the beach, an ideal hotel to escape with your partner and enjoy one of the most beautiful beaches in the country.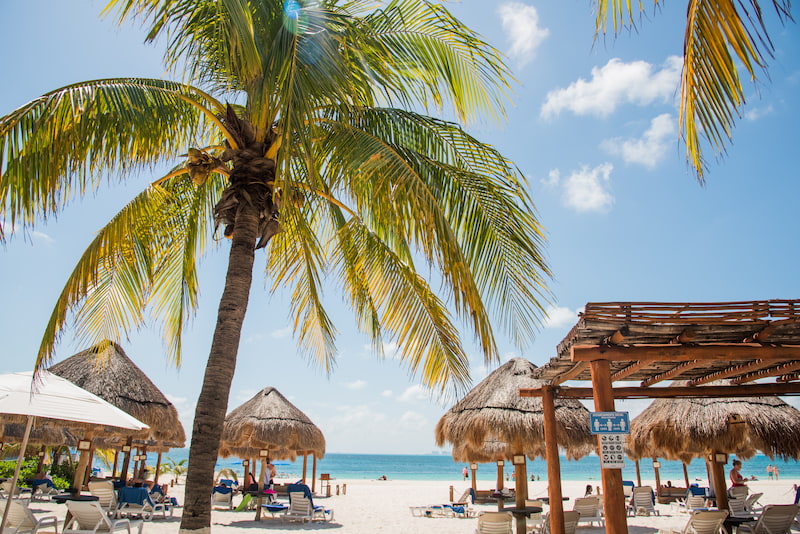 Playa Centro Beach
It is located very close to Playa Norte and although it is not considered a nudist beach, many visitors enjoy the sun and breeze topless. It is one of the first beaches that can be seen from the ferry upon arrival and has a huge variety of restaurants, bars, shops and water activities for all tastes.
It is possible to rest in comfortable palapas and enjoy the aroma of the sea while enjoying a cold drink (the micheladas made with beer, lime juice, salt and chilli are among the most requested). The view of the Caribbean is unforgettable, with a deep blue-green horizon and miles of white sand.
Playa Albatros Beach

This site has a beach club with hammocks, deck chairs, umbrellas and a calm, blue sea. From here you can take a snorkelling excursion to discover an underwater garden full of life, as well as various recreational activities.
Playa Lancheros Beach

A perfect place for those who want to enjoy the tranquillity in a sea that looks like a swimming pool. Its fine white sand helps to highlight the turquoise of the sea and the palm trees that surround it are the natural touch of green and shade.
Activities include swimming with turtles, interacting with harmless cat sharks and snorkelling. Thanks to its location in the south of the island, it is possible to enjoy a great panoramic view of the Caribbean, especially on clear days. Another attraction is its gastronomic offer, with typical dishes such as Tikin Xic, a delicious grilled fish made with grouper, achiote, citrus and a special red sauce.
Playa Garrafón Beach

This natural park offers an enormous amount of activities to enjoy unique moments, such as snorkelling, kayaking, zip-lines, diving, swimming with dolphins or just chairs, hammocks and palapas to relax.
The waters are completely transparent, ideal for discovering a world of underwater colour and although there is a charge for access, a day of fun and comfort is assured.
Playa El Cocal beach

Another dreamy spot to visit near Playa Norte. It offers gentle waves, intense colour and scenery perfect for social media updates. This beach is usually very crowded, so it can be a good option when you are in a festive spirit, however, our recommendation is to arrive early or stay nearby to enjoy every moment.
Remember that one of the island's greatest charms are the surrounding coral reefs, the second largest in the world after the Great Barrier Reef in Australia. This high diversity of marine life makes snorkelling and scuba diving one of the most popular activities.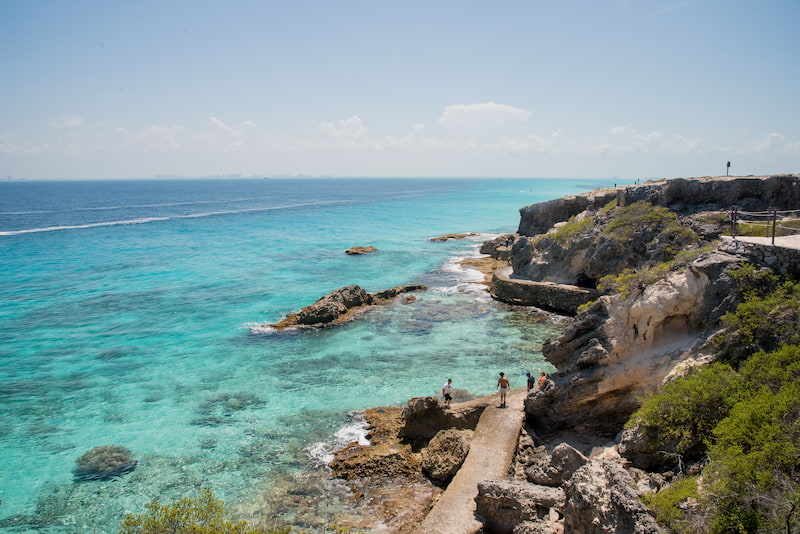 Punta Sur
More than any of the beaches of Isla Mujeres, this area is an area of cliffs. Here you will find the temple of the goddess Ixchel, an open-air sculpture park and above all, it is where you will be able to appreciate one of the most majestic and unique sunrises in the country. Why? Because it is the extreme southeastern tip of the Mexican Republic, therefore, this is where you receive the first rays of sunshine every morning.
The place breathes peace and freedom and you can feel the harmony with the sea, the breeze, the seagulls and even the iguanas, an unmissable place to capture in a selfie. For moments like these, we recommend staying more than one day at Privilege Aluxes. Tourists who arrive in the morning and leave in the afternoon will never enjoy this magical moment.
The beaches of Isla Mujeres are a treasure that can be experienced with the heart and all the senses, ideal to fill yourself with energy and enjoy the sun, the white sand and the crystal clear water. Get to know this incredible Caribbean spot and let yourself be pampered in a five-star hotel, exclusively for the most refined and demanding visitors.